The Library's archival, rare, and special collections section can be reached by taking the single elevator or stairs in the south-east corner (past the Circulation/Reserve area) to the lower level where researchers can use materials in the Wellington County Room. TRELLIS, the TriUniversity Libraries catalogue, is the primary tool for identifying and locating materials in Archival and Special Collections. Archival and special collection materials can be identified and located by using the search bar in the University of Guelph Library homepage or by visiting the Archives at the University's McLaughlin Library. Electronic resources, such as the rare books in Early English Books Online and Eighteenth Century Collection Online are also available."
The Ontario Council of University Libraries (OCUL) is excited to announce the upcoming launch of Omni, an academic search tool that connects the libraries of 14 of Ontario's universities. Omni goes live on December 10th, 2019 can be found at: https://www.lib.uoguelph.ca/about/about-library/omni
HISTORY
In essence, the chapbook collection was begun only in 1981 with the acquisition of a small collection of twenty early Newcastle-upon-Tyne chapbooks that added to an earlier collection of Brash and Reid chapbooks published in Glasgow which represented forty-two percent of the total titles. In the succeeding years, large numbers of separate and bound volumes of Scottish chapbooks have been acquired.
DESCRIPTION
Although the greatest strength of the collection is the primary material of the chapbooks themselves, the library does have all the major and most of the minor reference material and collections of reprints that have been published.
LANGUAGE
Only English and Scots is represented in the primary source material, and although critical works in other languages would be acquired, none are held.
HOLDINGS
More than 500 chapbooks; 31 critical works and collections of reprints.
BIBLIOGRAPHIC ACCESS
All titles are catalogued and available via the library's online catalogue. LC classification is used for all material. A finding aid (2001) is available.
PHYSICAL ACCESS
Rare and archival collections are open Monday-Friday, 8:30 a.m.-4:45 p.m. (4:30 in the summer).
Interlibrary Loan:
Available except for rare and archival materials. All of the chapbooks are housed in the rare book collection except for reprints
Reprography:
Yes, as the condition of the material warrants, and as the copyright allows.
Reference Assistance:
Yes.
PUBLICATIONS DESCRIBING COLLECTION
Eaves, Pat and Tim Sauer, -- Bibliography of Scottish chapbooks in the University of Guelph Library. –Guelph, Ont. University of Guelph Library, 1990
Although the term "chapbook" was not coined until the early nineteenth century, the term designates works of popular literature sold for a few pence, often by itinerant pedlars or "chapmen," which were in circulation from the sixteenth to the nineteenth centuries. They often contained short versions of romance, ballads, and popular tales such as Jack the Giant Killer and Tom Thumb usually illustrated with a few crude woodcuts. Books such as Robinson Crusoe and Don Quixote, The Fables of Aesop, and The Pilgrim's Progress were also abridged into chapbook form. Few chapbooks before the late eighteenth century were written with children in mind, but by 1800 chapbooks for children were being produced in some quantity. These often contained nursery rhymes and narrated the "tale" or history of such figures as Mother Hubbard and Cock Robin. Many chapbooks were badly written, and they were often badly printed, but nonetheless they display a raw kind of energy and excitement. They were the comic books of their day, and preserved, albeit often in a debased form, the imaginative literature of England at time when the ideological climate was hostile to the fantastic.
See The Scottish Chapbook Project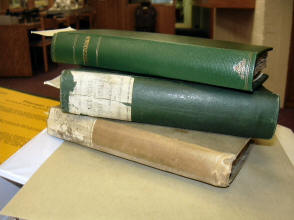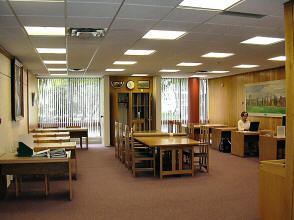 Above is just a few of the chapbooks you'll find in the library. The books are actually bound collections of a number of them but the envelopes also contain just single copies some of which are in a fragile state. You can examine them in this room but note they can't be removed from the room.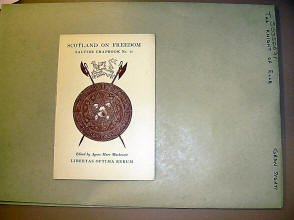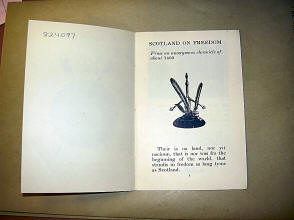 Here is Saltire Chapbook No. 11 entire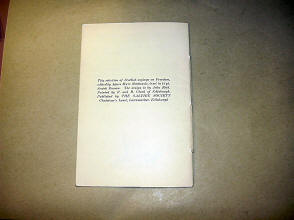 End of chapbook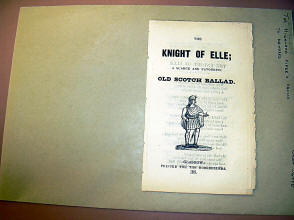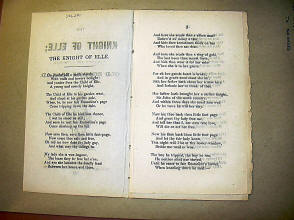 Here is another chapbook... Knight of Elle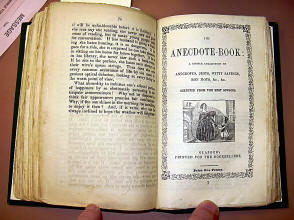 And here I'm just taking some pictures of other chapbooks so you can see some of the title pages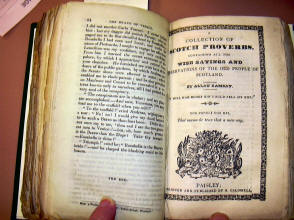 I have added below a few entire chapbooks in text format so you can read a wee selection of them.