This was an interesting day and a real eye opener as Kelly took me around some of the Condo's that he's contracted to look after for the owners.
These Condo's are curently purchase for between 250,000 and 750,000 canadian dollar. Most owners then use a management company to hire out free weeks during the year and Kelly is in charge of ensuring all is clean, nead and tidy for the next visitors and ensure phone lines, hot tubs, BBQ equipment, etc is all in tip top shape.
I scanned in a wee brochure of the complex for you to see...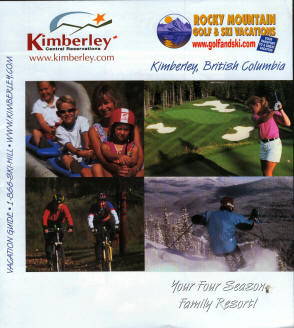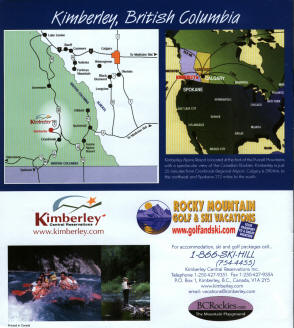 Kelly told me that these Condo's can rent out for around $650 - $750 (Canadian) a day but when you consider that some of them can sleep up to 19 people that pretty inexpensive. For skiers that also means you can ski directly from the Condo in some cases and in the case of the Northstar Mountain Chalets there is a ski lift right at the door and the big Marriot Hotel is just at the foot.
So here are a collection of photos I took while I was out and about where I'm mostly trying to show you three Condo complexes...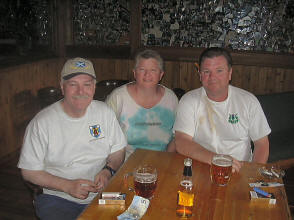 Ah.. forgot about this picture which was taken in the pub the night before. Of course you'll notice I'm wearing the Electric Scotland cap and T-Shirt :-)
We're now on the way to the Northstar Mountain Chalets...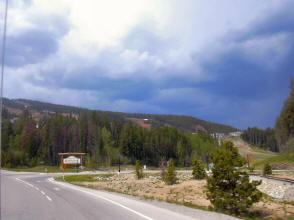 View while on the way up and view when we got there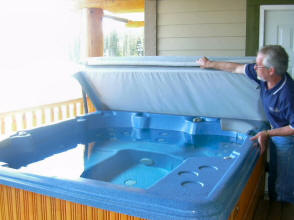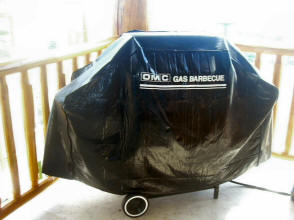 I should point out a couple of things. First all those Condo's have one or two Hot Tubs and a BBQ on the decks. Second and as important here Kelly is demonstrating his patent lifting gear for the Hot Tub cover. These things weigh some 60lbs but with Kelly's invention it reduced it to a 10lb lift. And the mechanism can work with different shaped units as well.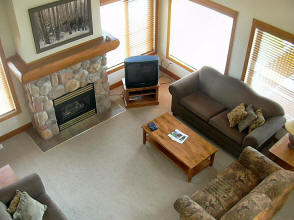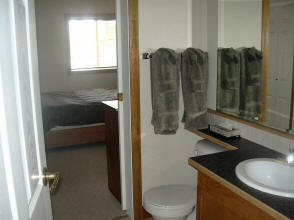 As you can there is a whole variety of rooms on different levels and some bedrooms have ensuite bathrooms. There is a fully equiped kitchen and really everything you need to have an enjoyable couple of weeks. The sofas can be turned into beds as well. So.. in this particular Condo you can actually sleep 19. The price I believe is $750 (Canadian) per night. Now as I work in British pounds that's around £280 a night but with individual rooms for 3 couples and enough other space to cater for say 4 children then that really is very inexpensive accommodation.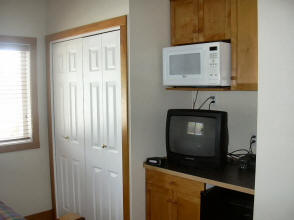 And note that even individual bedrooms have TV and a microwave. You also have a washer and dryer provided.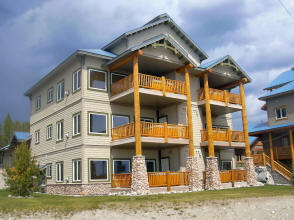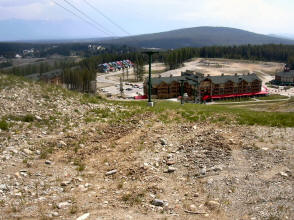 This is the outside of the Condo and a view down the hill to the Marriot Hotel. I'm told they are due to build a small shopping complex on the other side of the Marriot where you can get beer, wine, etc and there will be a small shop where you can get milk, bread and other basic foods.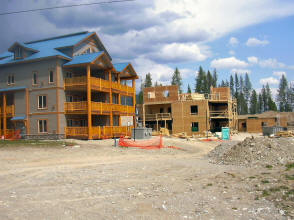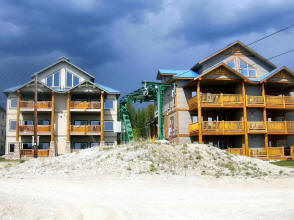 The complex is still in development as you can from these pictures. There will be garden landscaping as it nears completion and out back they will be installing a swimming pool complex for the residents. Note also the ski lift in the right picture above. This lets you put on your skis as the top and then take the ski lift down to the Mariot where you'll get other ski lifts up onto the hills. So it really is a ski in and ski out place.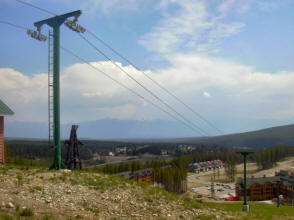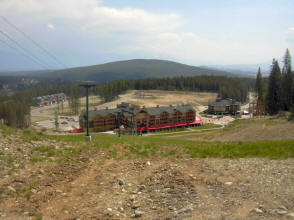 You can perhaps see the ski lift a little better from this view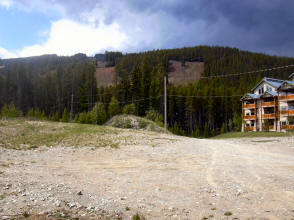 And the ski slopes just up the hill.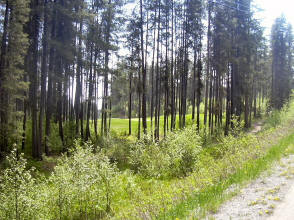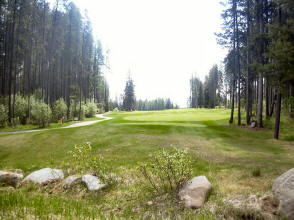 These pictures were us passing the golf course as we headed back down the hill to look at the next complex.
And here we are at the Copper Springs Chalets...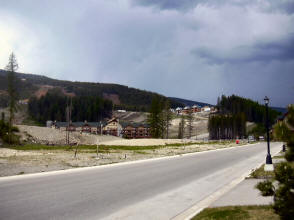 A neat colourfu complex and from there you can again see the Marriot Hotel just up the road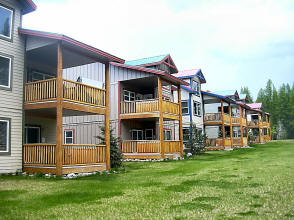 This is the view out back and again you might notice the Hot Tubs and BBQ's on the decks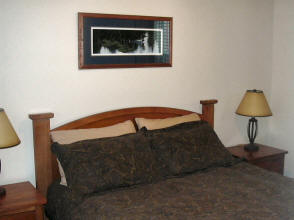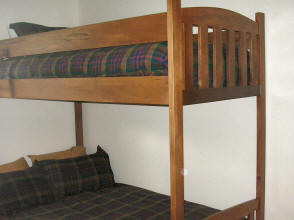 Another option for the kids.. bunk beds!
I might add that this complex is designed to offer more flexible accommodation as there is a locked door between units but if a bigger party wishes to rent then the door can be unlocked to provide a much larger unit with 2 kitchens and 2 living rooms, etc.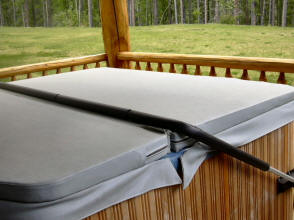 And again we see Kelly's patented cover lift :-)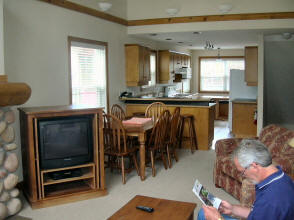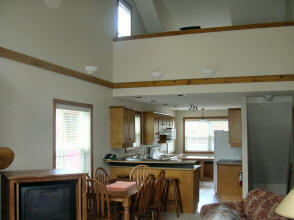 And as you can see another kitchen! As I mentioned earlier this can come in two small appartments or one large one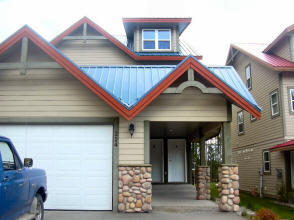 And this concludes our tour of Copper Springs Chalets
We're now going back up the hill toward the final complex which is The Lodges at Kimberley Range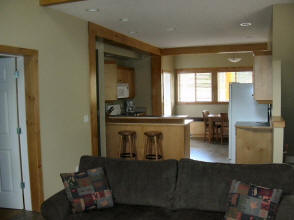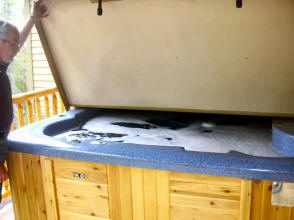 And we find the usual hot tub :-)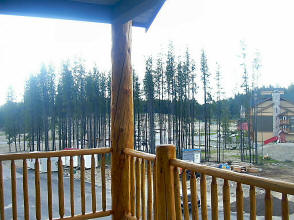 Another view towards the Marriot Hotel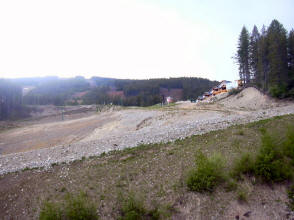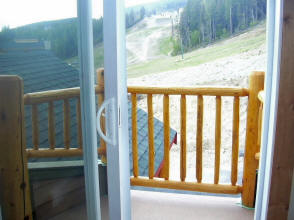 This is the newest of the complexes and lots of landscaping still to be done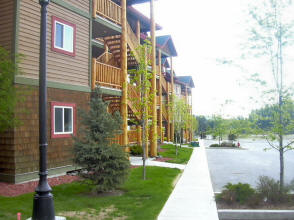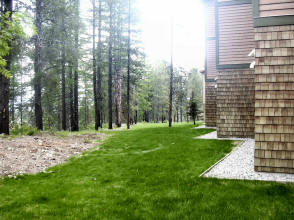 You can see from these pictures that landscaping is being done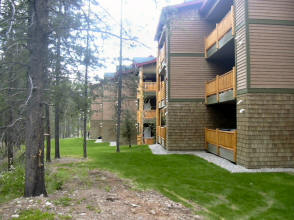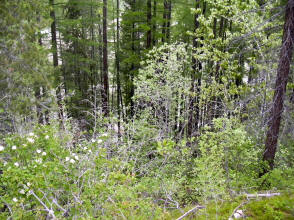 And down through the trees you'll find a river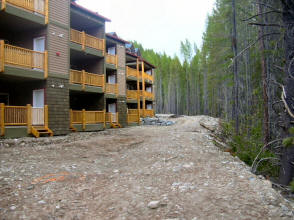 You can imagine how the other half will now look as they get to the landscaping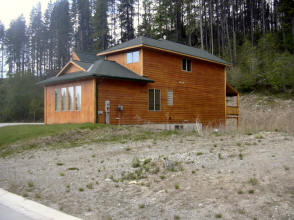 Kelly also showed me a couple of other homes that use his clearning and maintenance services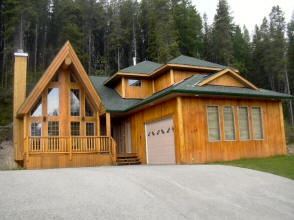 And so we end our tour of the condo's and the upper ski area of Kimberley for which many thanks are due to Kelly for letting me into these condo's to take a wee look around
Just on a finishing note I was telling Kelly that I still hadn't been able to get any photos of fishing and hunting and so he kindly have me the below photos for the site...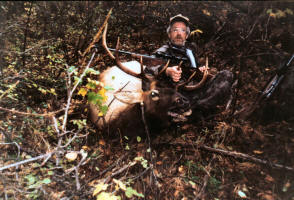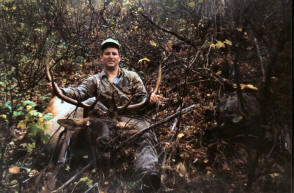 And here is Kelly on the left and his guide on the right. It is advisable to rent a qualified guide to take you around the area.