Figured it had been a while since I wandered around the town so decided to take in a couple of stores in particular that I had on my to do list :-)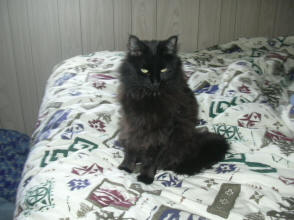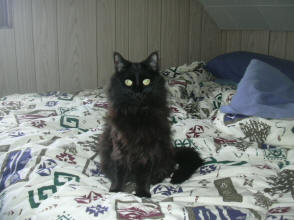 Sarah was saying "Meoooowwww" which translated into "Well if you've got that camera out you may as well take a couple of pictures of the best looking cat in town" and so here are a couple of poses :-)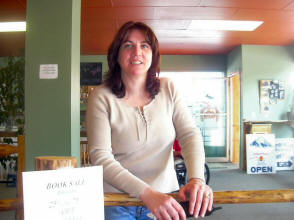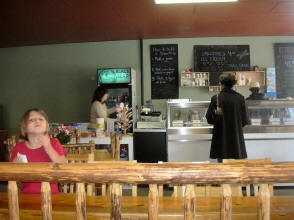 Here is the daughter of the shop, Alison Lomon, because her Mum is avoiding me :-) Actually she's just never there when I go up but will try for a picture of her before I leave Kimberley. Mum and Dad are both Scots!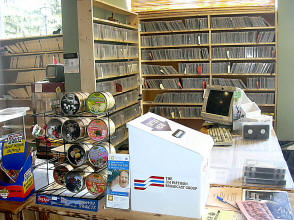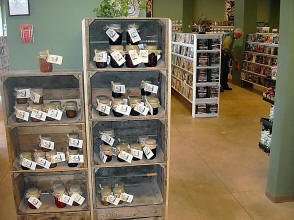 You never know what you'll find in Kimberley shops. This is of course the video rental store but you can have a coffee and snack, buy some rather tasty home made preserves and even wee sweets from Scotland.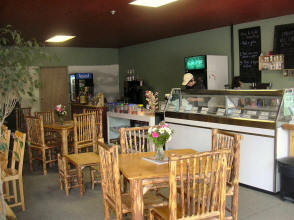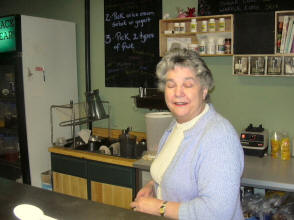 Aways happens... here's Elma Stewart from Scotland who runs the Black Bear Books & Video store and she decides to shut her eyes at the last moment <sheesh> whu does tha always happen to me???You can reach them by email at blackbear@monarch.net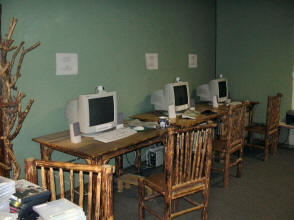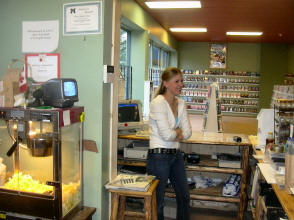 And another Internet cafe in the video store would you believe. Also a very helpful member of staff that kindly wrote down the name of the owner and her daughter but as she didn't write down her own name I've gone and forgotten it. Mind you a wee bit camera shy :-)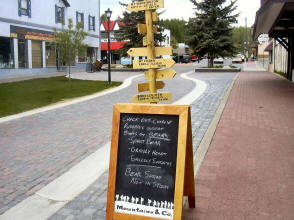 On the way back I came across this sign which I thought would make a good photograph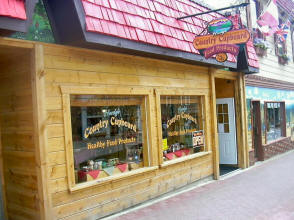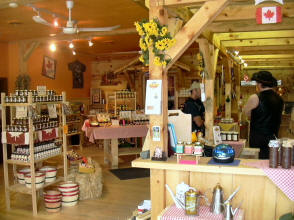 Another interesting wee store to explore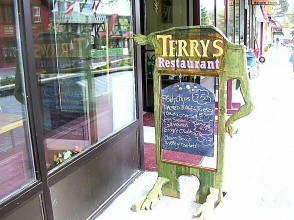 and on the way to the City Bakery I passed this interesting sign showing Brits that you can get Fish and Chips in Kimberley :-)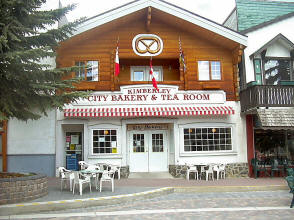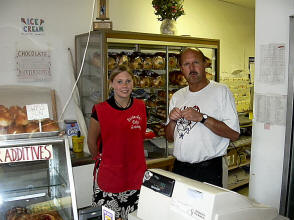 And here is the City Bakery where I met Bruno and a member of his staff. You know how us Scots like break and cakes well there was certainly a great selection to try in here!
You can also visit his web site at www.cyberlink.bc.ca/~citybakery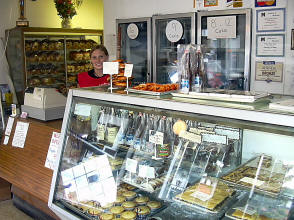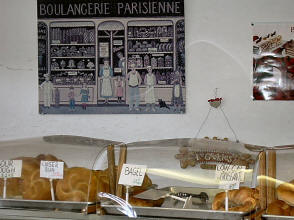 Too much sun in Kimberley but note the wee picture on the back wall? Well it is actually a jigsaw puzzle which I only noticed as I was leaving.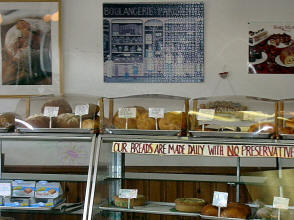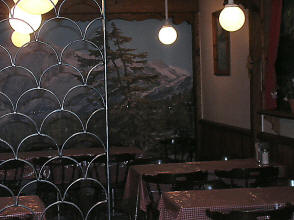 They also have a wee tea room at the back of the shop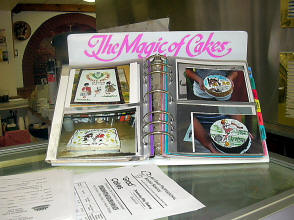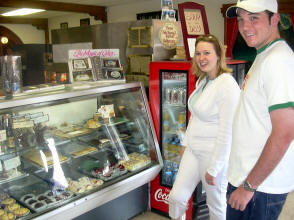 Major selection of cakes for all kinds of occasions and here are a couple of Kimberley residents with a sweet tooth. They bought three vanilla slices and a strawberry cake :-)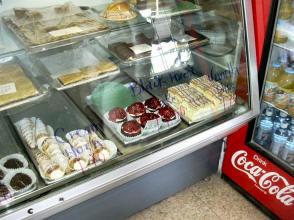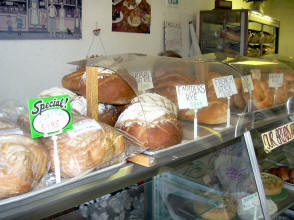 You can see the strawberry cakes have around four strawberires unlike the single strawberry we get in Scotland and here is just some of the bread on offer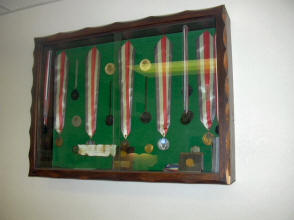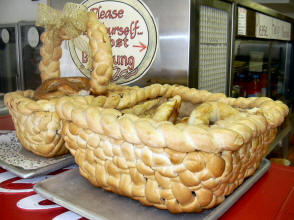 And just some of the awards they've won and isn't that a great bread basket?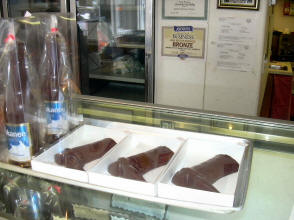 And to finish off here is a solid chocolate boot and chocolate beer bottles.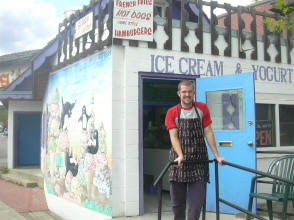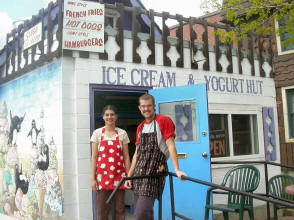 On the way out of town I noted this Ice Cream shop had finally opened up for the Summer so took the opportunity to take a couple of pictures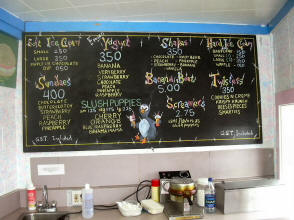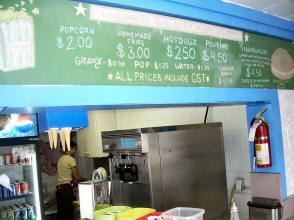 And as you can see from the sign they do more than just ice cream!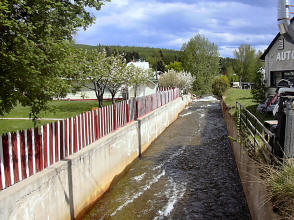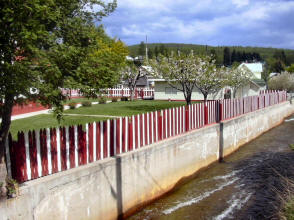 And on the way back home I noted things have got a lot greener and the flowers are coming out so took a few photos on my way back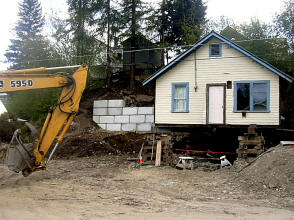 And a big construction job making a wee house into a bigger house :-) Down this street houses are a wee bit more expensive due to being within walking distance to the pub [grin]
Later in the night I popped up to the Ozone pub with Billy, Debbie and Donald and took a few more photos...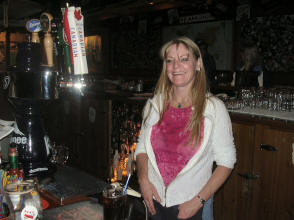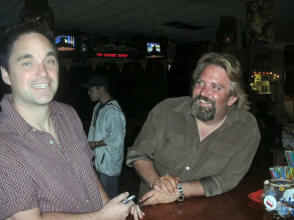 First pic is Cindi who thanks to new owners of the Ozone pub is now the Manager so well done Cindi! Second picture is Paul and Bob and I took them from the other side of the bar so you can see their usual pose :-)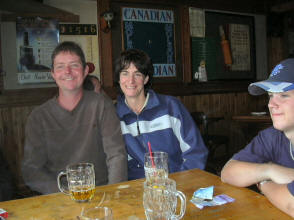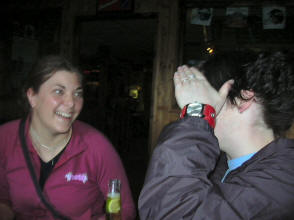 And new friends although you'll note one is rather camera shy :-) You may also note Donald sneeking into the picture on the left!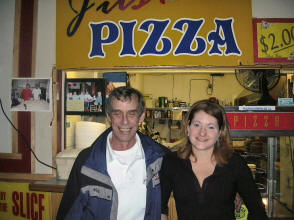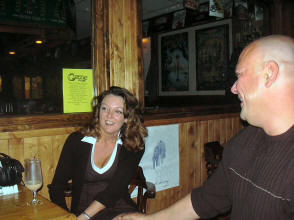 And two very important pictures. First is Michey who makes all the pizzas and is a very important person to know at the Ozone and beside him is chef extraordinaire who makes top class Steak sandwiches. On the right is Mo a local RCMP with his wife on their night out celebrating their first wedding aniversary. I didn't manage to get a pictute with the flowers that Mo had bought for her but it was obviously a grand night out as they'd just popped in after to top class dinner :-)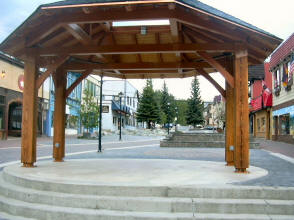 And as it was 9.00pm and I just happened to find myself in the middle of the Plaza I thought it might be a good opportunity to take a few shots looking right, left and up and you'll note I have no sense of direction :-)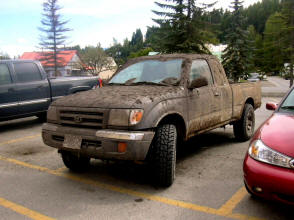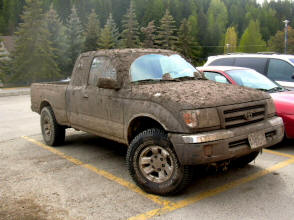 And thought I'd just show that in Kimberley they grow their own trucks :-)