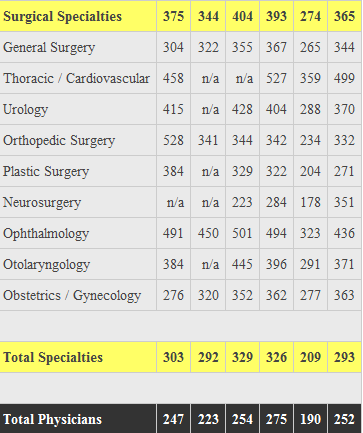 It should be considered that Doctor's are running a business and so while the above table shows average income the costs of running a practice can be around 25% depending on how they are run. Some Doctor's have individual practices while others form a type of group practice where a number of Doctor's share the costs of the building, medical equipment, staff, etc. And of course like all of us they also pay tax on their net income. In addition, Doctors often have rather large student loans to pay off especially in their early days of practice. They can also increase their income by taking on additional roles such as working in the emergency dept. of the local hospital or other specialist work.
So let's say an average Family Doctor in 2012 earns around $230,000. The cost of running their practice may be as much as $57,500 thus giving them a net income of $172,500. Then especially in the early days they have student loans to pay back which can be more than $100,000 and then they will have the normal costs of mortgage, car and living expenses. And then they have to pay tax. And so while their net income after all that can be very good it's clear, especially in their early years, they are not quite so well off as you might expect.
What it takes to become a Doctor
A bachelor's degree, medical school, residency — doctors pass through a lot of hoops before they're allowed to practise on their own.

The process is overseen by Canada's 17 medical schools — a number that was bolstered with the addition last fall of the Northern Ontario School of Medicine, a joint initiative of Laurentian and Lakehead universities.

Getting into medical school is an ordeal in itself, usually requiring a bachelor's degree with at least basic science courses. Most English-speaking medical schools also require applicants to write the Medical College Admissions Test (MCAT), a gruelling 9 1 /2-hour standardized exam.

The University of Ottawa is one notable exception to this rule. Roughly a quarter of applicants are successful, with regional rates in 2003 ranging from 20.5 per cent in Ontario to 48.9 per cent in Saskatchewan.

The medical school curriculum typically lasts four years. The first two are "pre-clinical," while the third and fourth provide an opportunity to rotate through the core medical specialities — the "clerkship" — and try different fields.

Students graduate with an M.D., making them licensed doctors — but they still must complete a residency before they can practice independently. (Before 1994, students could gain a license by completing a one-year internship rotating through various specialities. That option has been eliminated for Canadian students, along with the designation medical intern.)

The residency combines learning with service: Working long hours in teaching hospitals and clinics affiliated with the medical schools, the residents learn from senior mentor physicians, and help to teach students still in medical school.

Family doctors — the largest group, comprising slightly less than 40 per cent of residents — complete a two year residency.

Specialists complete programs ranging from four years for internal medicine and pediatrics to six years for neurosurgery and cardiac surgery.

After that, sub-specialization — for a surgeon to become a colorectal surgeon, for example — takes another two or three years.

The residency is a continuation of the learning process started in medical school, but there's one important difference: Medical students at the University of Ottawa pay tuition of $14,000 per year; residents earn salaries ranging from $45,115 in their first year to $63,605 in their fifth year.
The average student debt incurred by a doctor for medical school is almost $160,000, according to the American Medical Association.