Joan Morris had a holiday in Nova Scotia with her family in 2014 and sent in some pictures she took for which many thanks.
First 3 pics are at Peggy's Cove, as you can see, then the 4th & 5th are at Lunenberg Maritime Museum. Then there's the 6th, Grohman (sp?) Knife Manufacturer in Pictou, NS. Then the 7th, 8th & 9th are at The Red Shoe Pub in Mabou, two consecutive nights we were there. 8th I believe was Dwayne Cote playing fiddle. The 9th was a visiting Scot playing fiddle. The last was a couple playing keyboard/fiddle & this was when the young woman got up & step danced.
My son & wife had lobster there, but decided they liked crab claws better than those, & I "think" this was close to Halifax, as it was close to our coming home.
1-3 pub photos are from the Red Shoe Pub in Mabou, Cape Breton.
#1: Lisa Cameron
#2: Dwayne Cote (fiddle) & Kevin Levesconte (piano)
#3: Howie MacDonald (fiddle) & Kevin Levesconte (piano)
The fourth pub photo I believe is from the All Aboard Restaurant in Cheticamp, Cape Breton
#4: Robert Deveaux (fiddle)
Our thanks to Cheryl Smith for identifying the artists.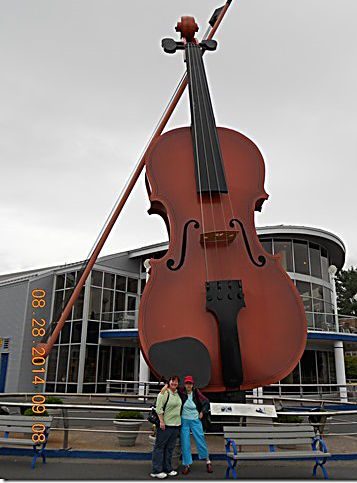 This is a photo of dtr-in-law & me, at the gigantic fiddle in Sidney, NS. One man made this, & of course it's down on the wharf, past the hotel we stayed in. My son took this picture on my camera. I'm the "silly" one on the right.