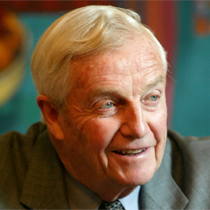 Peter Lougheed, Alberta's 10th premier and a faithful defender of provincial rights, died Thursday in the Calgary hospital that bears his name. He was 84.
The patriarch of the province's Progressive Conservative party, which began its historic reign of Alberta in 1971, passed away peacefully from natural causes, his family said.
Politicians of all stripes paid respects, as tributes poured in from across Canada and abroad.
In a statement, Prime Minister Stephen Harper said "today Canada lost a truly great man. Peter Lougheed was quite simply one of the most remarkable Canadians of his generation.
"A master politician, gifted lawyer, professional-calibre athlete and philanthropist, the former premier was instrumental in laying the foundation for the robust economic success that his cherished province of Alberta enjoys today."
From a trade mission in China, Premier Alison Redford said she was sad to hear of the death of "my dear friend and mentor," calling Lougheed an "icon" in Alberta and the rest of the country.
"Premier Lougheed was unquestionably devoted to Alberta and Alberta's interests. He not only believed in a strong and united Canada, he believed that Alberta did not have to succeed at the expense of Canada, but as a proud member of a country working together — a country where all succeeded," she said in a statement.
Redford praised Lougheed's vision of paving the way for developing the oilsands, creating the Heritage Fund and embracing Alberta's arts and culture communities.
The founder of the Alberta Tory dynasty, Lougheed swept the PC government to power in 1971, toppling the Social Credit's long rule and winning four majority governments before retiring in 1985.
During his time as Alberta's premier, he championed the province's energy industry, fending off Ottawa policies designed to seize greater control of the resources. He also established the Alberta Heritage Savings Trust Fund and the province's Bill of Rights.
In June, he was named Canada's greatest premier of the past 40 years in a ceremony in Calgary — one of his last public appearances.
His health deteriorated in recent months and Lougheed was hospitalized in the northeast Calgary hospital.
Former Calgary MP Lee Richardson, who'd once been an executive assistant to Lougheed, praised his friend of 45 years.
"He was a great friend and a great man, and I do believe the greatest Albertan of all time," Richardson said.
"He was a wonderfully warm family man."
Calgary Mayor Naheed Nenshi expressed sorrow to the Lougheed family on behalf of Calgarians.
"I, like every Albertan of my generation, am a Lougheed baby. I was born the year after he was first elected, and I have never known an Alberta or a Canada that did not benefit from his legacy," Nenshi said in a statement.
"He represented the Alberta that drew so many (my parents included) to live and work and thrive here."
Lougheed leaves behind his wife Jeanne, children Stephen, Andrea, Pam, Joe, and seven grandchildren.
The family said they will celebrate Lougheed's life in a private service and plans for a public memorial will be announced in coming days.
Lougheed's youngest son, Joe Lougheed, declined to comment Thursday evening.
Lougheed's family Thursday expressed thanks to the medical staff who helped care for the former premier in the past months and days.
"Although he was known to many for his contributions to Alberta and to Canada, his first dedication was to his family. He was a deeply caring and loving husband, father and grandfather," the family wrote in its statement.
"We will miss him terribly."
The family also said it appreciated the "outpouring of support," from Albertans and Canadians, "which has deeply touched our family."
Alberta PC Party president Bill Smith said Lougheed will be greatly missed.
"As Albertans and Canadians we stand on the shoulders of many great men and women that came before us. In my mind none are greater than Peter Lougheed. He will be missed," Smith said.
David Taras, professor of communications studies at Mount Royal University, said few Alberta public figures have such a towering place in the province's history books like Lougheed, pointing to his epic battles with former prime minister Pierre Trudeau over energy policy, contributions to federalism and the 1982 Constitution.
"It's rare that a politician can transcend the province and become a symbol of his province," Taras said.
"This was a big man who created big things and had a big vision," he said.
Jim Dinning worked as an aide in the Lougheed government before embarking on a business and political career that included serving as finance minister.
"He was a taskmaster and he set high expectations. He knew what was going on in the government and considered it very important to spend more than half his time behind his desk, meeting with, talking with people, reading, thinking," Dinning said.
"The people who were around him, and I was one of them, cherished the opportunity to work beside him and work for him. And there were times he could be a tough son of a bitch, like he had to be. But never mean-spirited."
Trudeau's son, Liberal MP Justin Trudeau, issued his own condolences via Twitter on Thursday.
"It is with tremendous sadness that we bid adieu to a giant of Canadian politics," he wrote. "Peter Lougheed was a man of vision, integrity, and heart."
Former Ontario premier William Davis recalled that he and Lougheed were both sworn into office in the same year and worked together for more than a decade.
"We were known to have a difference of opinion on occasion but I never questioned his integrity or his motivation," he said.
"Working shoulder to shoulder on successfully patriating our Constitution was one of the proudest achievements we shared."
Wildrose Leader Danielle Smith said Lougheed's legacy of the Heritage Fund and fighting for Albertans with "tremendous dignity and effectiveness" during the days of the National Energy Program will be appreciated for years.
"On a personal level, we will remember Mr. Lougheed as a man of great personal integrity, who treated others with great compassion and who had an unwavering commitment of service to the people of Alberta," she said, in a statement Thursday.
Liberal Leader Raj Sherman expressed sadness over the news and offered condolences on behalf of the party.
Sherman credited Lougheed as inspiration for his move to Alberta from British Columbia in the early 1980s. He also described Lougheed as "the father of modern day Alberta," who even offered paternal advice during their encounters.
"Pace yourself, look after your children and your family," Sherman recalled the former premier telling him. "We didn't even talk about politics — mostly it was the human stuff."
Lougheed was a "tremendous builder of our province," who helped make it a fairer, more progressive place, said NDP Leader Brian Mason, in a statement.