The Board of Directors, Management, Members & Supporters of the Canadian Air & Space Museum are saddened to announce the passing of Philip Gray.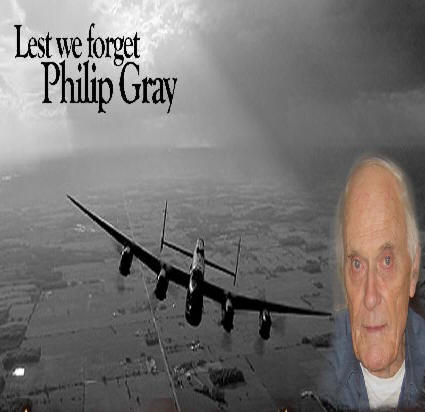 Philip was a special person who represented the ongoing restoration of the museum's LANCASTER FM-104 bomber and who took the time to educate thousands of the perils of war from his desk at Downsview Park. A gifted & brave WW2 pilot, author and friends to many around the world.
PHILIP GRAY 1922 - 2013
Suddenly at his home in Etobicoke, Ontario, Philip passed away on October 16, 2013. He was born in Ladybank, Fife, Scotland to Philip and Isabella Gray. He attended Kirkcaldy High School to 4th Year, where he was the Junior Sports Champion in 1936. Philip joined the RAF in 1942, and underwent training for close to a year at Falcon Field, Arizona, USA. Upon his return to the UK, he was posted to 186 Heavy Bomber Squadron, at Stradishall. He piloted Lancaster Bombers, and with "Lady Luck" by his side, flew in 16 bombing operations against the Third Reich. Philip was later posted to the 622 Squadron, Mildenhall, where his duties included dropping food to the people of The Netherlands under operation "Manna", and flying back ex- POW's from France to England. He married Lynn Melville, in 1952, in Dundee, Scotland. In 1971, they immigrated to New Zealand where Philip continued his aviation related career and community radio broadcasts. The loss of Lynn in 1982 hit him hard. He scripted a book "Ghosts of Targets Past" in New Zealand, and had it fine honed after he immigrated to Canada in 1990. He became a member of the Canadian Air and Space Museum in 2000, where he was very well respected. Philip accomplished ten annual visits to the Duxford Air Museum, UK, retailing hundreds of his books. Philip will be missed by his many friends, surviving cousins, neighbours, and especially Ivor "Blondie" Foster, (Plymouth, England) the last surviving crew member.