Chris Hadfield (born 29 August 1959) is a Canadian astronaut who was the first Canadian to walk in space. A former Royal Canadian Air Force fighter pilot, Hadfield has flown two space shuttle missions, STS-74 in 1995 and STS-100 in 2001, and served as capsule communicator for both Space Shuttle and International Space Station (ISS) expeditions. On 19 December 2012, Hadfield launched in the Soyuz TMA-07M flight for a long duration stay on board the ISS as part of Expedition 35. He arrived at the station on 21 December, as scheduled, and became the first Canadian to command the ISS when the crew of Expedition 34 departed. On 12 May 2013 he turned over command of the ISS, and safely returned home aboard the Soyuz spacecraft on 13 May. He received significant media exposure during his time on the ISS, and ended his time on the station by paying tribute to David Bowie with a rendition of "Space Oddity".
You can learn more about his life and achievements at:
http://en.wikipedia.org/wiki/Chris_Hadfield
You can see other videos about him on National Geographic.
Here is an article about him from MacLean's Magazine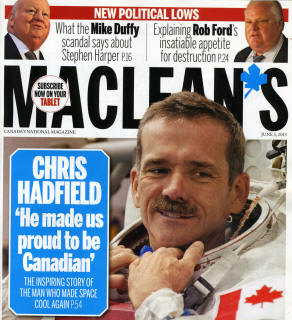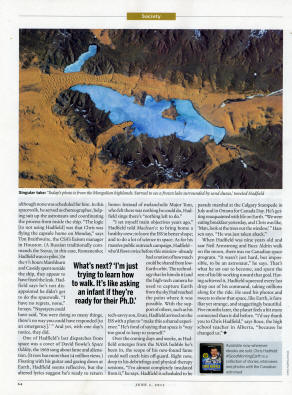 Canadian astronaut Chris Hadfield took command of the International Space Station (ISS) on March 13. Watch TVCogeco's exclusive documentary "Here I Stand - The Chris Hadfield Story" about how a Sarnia farm boy grew up to become a Canadian hero - who knew being weightless would come with such heavy responsibility?
https://www.youtube.com/watch?v=S1_77B0MTPs