While I was in Dresden paying my car insurance I though I'd take a trip to Uncle Tom's Cabin as I passed the sign to it on my way in. So... here are some photos of the place for you to enjoy. I was actually lucky with my visit as they don't open until later this month but they were open for a school party so got a chance to look around.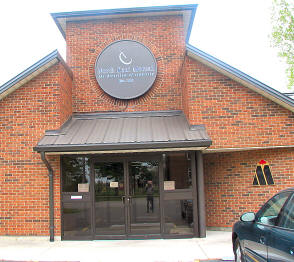 This is North Kent Mutual where I paid my car insurance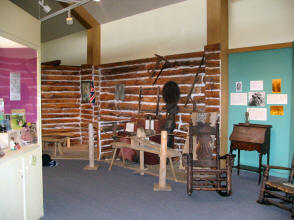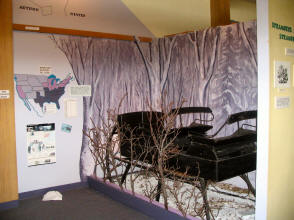 They have an excellent display and I took some higher resolution photos later on to give you a chance to read some of the signs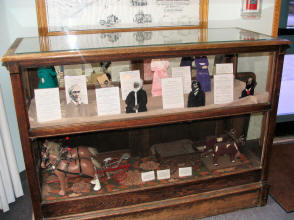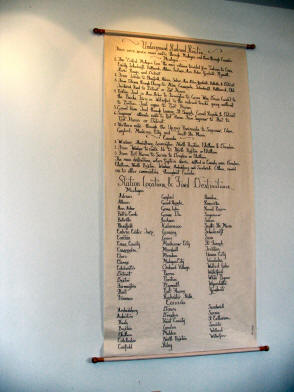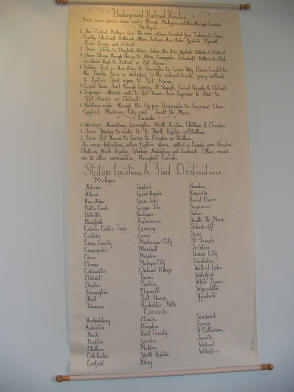 And here I switched to a higher resolution so you'd get a chance to read this and other signs in the exhibit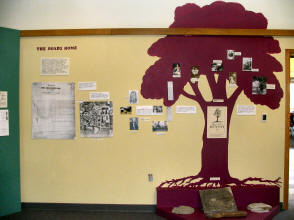 and so that completes the tour and below I show you a few pictures of my ride back to Chatham
The Underground Railway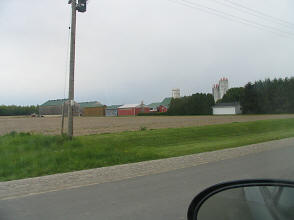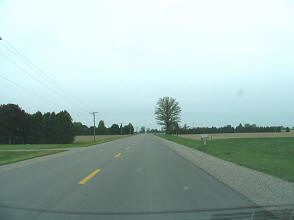 and finally here are some pictures of the wee brochures I picked up
I hope you enjoyed the tour :-) You can learn more by visiting their web site at
http://www.uncletomscabin.org/
Got in some information from Doug Ross about Dr. Alexander Milton Ross who had a connection with Uncle Tom's Cabin and the Dawn settlement...
Dr. Alexander Milton Ross had a broad connection with the anti-slavery movement and the Underground Railroad. He publicized the route to the Black Settlements in Canada and the location of safe houses along the way. He supplied the slaves with provisions and often accompanied groups to their destinations between Niagara Falls and Windsor. Reverend Josiah Henson's Dawn Settlement at Dresden was one destination on the Underground Railway. Another one was Harriet (Ross) Tubman's family refuge in St. Catharines.
Dr. Alexander Milton Ross was a little known anti-slavery activist and 'conductor' on the Underground Railway until Steven Duff (a former Toronto-area High School music teacher) now living near Parry Sound, Ontario, wrote the historical novel, Hunter of Dreams (published in 2001). Dr. Ross was born in Hastings County, Belleville, Upper Canada, on December 13, 1832, and he died on October 27, 1897, in Detroit, Michigan, USA. He was the son of William Ross (1792-1844) and Fredericka Grant (1796-1855, and married Hester Harrington in 1857.

As a youngster, his parents had discussed the evils of slavery with him. When Ross met refugees and anti-slavery activists in Toronto, he translated their hopes into action. Thereafter, he led a multiple life as an abolitionist, a medical doctor, a naturalist, and writer. When he was 23 years old (1855) he went on extensive tours that took him as far south as New Orleans, Louisiana, using his background in ornithology as a pretense at doing research in order to spread news about Canada and how fugitives could get there by travelling at night while staying at safe refuges during the day. He was known to give the freedom pursuers money, a compass, knives, pistols and food.

He became a personal friend of abolitionist John Brown, and his work brought him to the attention of Abraham Lincoln, who commissioned him as a special agent to monitor the Confederate activities in Canada during the Civil War. Ross's work,declared Lincoln, shortened the Civil War by the better part of a year.

Between the years 1876 and 1881, Dr Ross was knighted by the emperor of Russia, and honoured by the leaders of Italy, Greece, Saxony and Portugal; he was a member of the College of Physicians and Surgeons of Quebec and Ontario; he was a founder of the Society of the Diffusion of Physiological Knowledge; he was appointed Canadian Consul in Belgium and Denmark, and he received the decoration of the "Academie Francaise" from the government of France.

The official opening of the "People and Places: London's Black Community" exhibit at Museum London at London, Ontario, took place on January 31, 2004, just prior to Black History Month (February). Featured was an historical portrayal of Dr. Alexander Milton Ross, considered a great shepherd on the Underground Railway.
Among the most daring of the UGR workers was a Canadian doctor from Belleville. Alexander.Ross was an ornithologist as well as a doctor, and he often used his interest in birds as a cover for his UGR activities. Ross' parents had discussed the evils of slavery with him when he was a lad, and when he read Harriet Beecher Stowe's Uncle Tom's Cabin, he made a lifetime commitment to the abolitionist cause. In later years Ross said of Stowe's novel:
It excited the sympathies of every humane person who read it in behalf of the oppressed. To me it was a command; and a settled conviction took possession of my mind that it was my duty to help the oppressed to freedom ...
I also stopped off at the local police station in Chatham to pick up my security report for my immigration application.
I note also that we are about to enter a long weekend holiday here in Canada celebrating Victoria Day which I understand is in honour of Queen Victoria.
And just as a final note I got my chair and wee hi-fi unit delivered on the Friday and I purchased the chair they lent me for $30.00 so I now have 2 chairs a 100% improvement <grin>. I think that chair will likely go into the library as it could also be used as a spare bed in a pinch as well.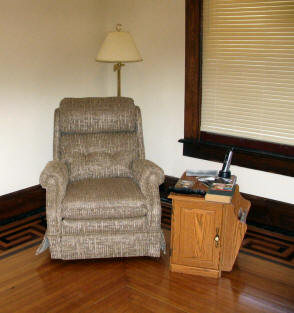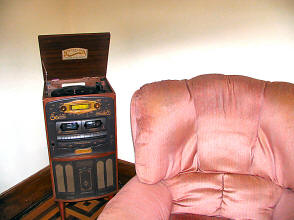 The new chair is a recliner, slider (kind of like a rocker) and it swivels as well :-)
The Hi-Fi unit has a record deck, twin cassettes, three CD unit and a radio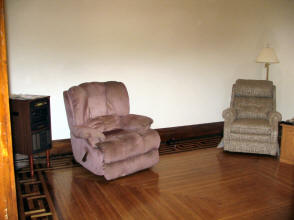 and so this is how the room looks now!
---
I got an email in from Jeanie & Manny Francis...
I discovered another interesting site called Pathways to Freedom: MD & the Underground Railroad. Included is a site about the language of quilts that helped travelers find the stations and safety.
This includes a practice site to try to create a quilt square. http://pathways.thinkport.org/secrets/secret_quilt.cfm
I found that it is best to start from the center !