On Thursday 17th February 2011 I was in Vancouver to give a talk for the Scottish Studies Department of Simon Fraser University. Leith Davis, the head of the department, had invited me over and I had a most enjoyable time. On the Thursday morning I headed up the Vancouver Lookout to get some pictures which you can see at the link below. It was a dull day but not raining.
Pictures of Vancouver on the Thursday
On the Thursday Evening I gave my talk which was proceeded by the local Gaelic Choir which I recorded below. You might be better right clicking on the links and then saving them to your computer.
And here are a few pictures from the talk...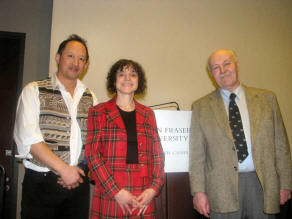 Here you can see from the left Todd Wong of Gung Haggis Fat Choy fame, Dr Leith Davis and myself
Then on the Friday I got taken out and around Vancouver by Ron Sutherland and his wife and got another photo album.
Overall my stay at the Delta hotel was enjoyable and apart from not being able to smoke in my room it was very comfortable and the staff were helpful and friendly from the receptionists, to the waiters and waitresses and bar tenders. I was even offered an umbrella when I went out to have a smoke! I was told the first night of my stay they only had two rooms vacant so obviously doing good business. I understand that the no smoking rule is part of the legislation of British Columbia. I might add that if I'd been aware of this I would probably not have come. I can certainly live with not smoking in bars and restaurants but a bit much when you can't smoke in your own room and especially when I do a lot of work in mine..
I was well looked after by Leith and she drove me up to SFU in all the snow to meet John Craig, Dean of the Faculty of Social Sciences and Humanities and Mauro Vescera, Advancement Officer, Faculty of Social Sciences and Humanities up there and they took me out for lunch. We discussed the need to raise more donations as the Scottish Studies Dept. really needs its own chair. Leith could certainly do with a full time assistant given all she does and could do if she only had the time and the staff.
After lunch I met with Malcolm to talk about providing a mirror for my web site and we got all that sorted so it's now down to me to make it happen. We also discussed them taking over the management of the site but felt that we needed to get the mirror in place and then let them have a good look at what is involved and then we can make decisions.
I will say that while I was away I found I was unable to publish to my ElectricScotland.com web site and despite contacting Steve he couldn't find out what the problem was. For this trip I was able to publish to ElectricScotland.net so this account was able to go up.
On the Thursday evening I was taken out to dinner at the Vancouver Club and very much enjoyed the meal and the conversation with David Lunny, with Lunny MacInnes Law Corporation and his wife, Maureen Baird also with Lunny MacInnes Law Corporation, Ron and Eileen Sutherland, Tricia Barker, VP, United Scottish Cultural Society, Wileen Keough, Associate Professor, History, SFU and Jack Little, Professor, History, SFU. After the meal we headed to where I was giving the talk and enjoyed the local Gaelic Choir which I mentioned above. And then it was my time to give my talk which seemed to go down well and certainly got lots of questions and quite a few came up afterwards to introduce themselves and to ask more questions. And then it was back to the hotel.
On the Friday Ron and his wife took me out for the morning and as it was a beautiful day it was an excellent opportunity to take some pictures. Just before they arrived to pick me up I was having a cigarette outside the hotel and mentioned to one of the staff what a nice sunny day it was. They replied... quiet... don't say anything or it might start raining!!! <grin>
And so after a pleasant morning we had lunch and then they dropped me off at the hotel where I spent the rest of the afternoon and into the evening posting up all these pictures. So tomorrow morning it will be back to the airport to catch my flight back to Toronto.
Stop Press
I did manage to fit in a Sea Plane ride on my way out of Vancouver so here are the pictures