On behalf of our more than 5,000 Knights and Dames of the Knights Templar worldwide, we welcome you to our page for the largest Knight Templar Order in the world, and the only Templar Order recognized in Special Consultative Status by the United Nations.

Our official name is Ordo Supremus Militaris Templi Hierosolymitani, Latin for "The Sovereign Military Order of the Temple of Jerusalem", and often shortened to the initials OSMTH or SMOTJ. Our Order was founded on the principles first adopted by the original Templar Knights in France in the Year 1118 and carried out in those early days from their home in the Temple of Solomon in the Holy City of Jerusalem, provided for them by then King of Jerusalem Baldwin, the Second. In these modern times, OSMTH is international in nature with members from over 40 nations, ecumenical Christian in our religious beliefs welcoming Members of all Christian religions, and focused on matters of human rights, political and religious freedom, and humanitarian aid to the world's less fortunate. We are officially recognized by the United Nations in Special Consultative Status and furnish OSMTH Official Delegations to the United Nations in New York City, Vienna, and Geneva.

Like the Knights Templar of old, we operate as a modern-day worldwide network of educated professionals in such widely diverse protocols as senior government officials, Members of the Diplomatic Corps, senior clergy, military officers, physicians and surgeons, engineers, historians, and humanitarian aid caregivers. OSMTH represents many of the most respected and credible senior officials in their home nations, providing both a highly respected body of expertise, an influential voice to support commitment to the less fortunate of the world, and to promote the time-tested chivalric ideals of honor, honesty, civility, tolerance, care for our fellow man, and support for ecumenical religious faith throughout our individual nations and throughout the world community.

We often find ourselves working with and through other Chivalric Orders, the senior leadership of other nations, and with other Non-Governmental Organizations [NGO] in order to provide humanitarian aid and other involvement in resolution of serious humanitarian needs or political, ethnic, and religious conflict. Engaging the respect and credibility of our world membership in their home nations, we are able to bring resolution and assistance in matters that quite often become bogged down in the bureaucracy of governments and regulations. Our objectives include the international promotion of inter-cultural and inter-religious contacts and worldwide networks in order to help build bridges of brotherhood between nations and cultures, as well as individual good works performed by individual anonymous Knights and Dames. As ecumenical Christians, we also seek to increase awareness of conflicts and their causes and in so doing, work towards their future prevention and ultimate peaceful coexistence of all nations. Because our Order began it's first work in The Holy City of Jerusalem in the 12th Century, The Holy Land and it's Cradle of Christianity are of the highest interest to us in this regard as evidenced by our most recent Trip To Jerusalem and our work there with the Senior Leadership of every Christian Church in Jerusalem.

OSMTH aspires to foster a cosmopolitan society in which differences among peoples, cultures, and governments will be both respected and appreciated. We seek the betterment of humanity through education, world brotherhood, chivalric principles, and civil behavior and treatment among one-another.

Our membership standards are purposely very high, our financial and time commitments are not for everyone, and our dedication to a more caring world requires significant expectations that not everyone can meet. But for those who qualify, the OSMTH Knights Templar Order offers an unequaled World class Chivalric Order with an international network of some of the most sophisticated and influential professional men and women from over 40 different nations.
Here in Canada we have Priories in Windsor, Toronto and Ottawa all in the Province of Ontario and a Commandary in Edmonton. We are also in the early stages of working on developing a Commandary in Halifax, Nova Scotia.
Brussels Declaration of the Order

It states our vision as...

Today, OSMTH – Knights Templar International looks for a world in which:

a constructive dialogue between the great religious faiths, and the individuals and nations that adhere to them, is conducted in an atmosphere of mutual respect, understanding and peace;

the holy sites of Christianity and the other great faiths are respected, protected and maintained, and pilgrims can travel to them in safety;

the dedication, generosity and integrity of all those engaged in providing humanitarian aid are recognised and valued, and aid workers carry out their vital work in an ethical manner without fear of discrimination;

the principles of active charity, courtesy, dedication and honesty, inherent in the highest ideals of a code of chivalry and a personal rule of life, are spread wider and wider in society;

and

the contribution of the Knights Templar, medieval and modern, with regard to agriculture, construction, transportation, crafts, medicine, finance, inter-faith affairs, diplomacy and philanthropy is both well researched, and also widely understood and valued by the public.
See http://www.osmth.org/ for further information on the International order.
Alastair McIntyre, GOTJ, FSA Scot is the newsletter editor for the "Canadian Templar", the newsletter of the Grand Priory of Canada, copies of which can be downloaded below. He completed his four years work on the newsletter with the September 2016 edition.
Newsletters of the Grand Priory of Canada in pdf format
December 2012
March 2013
July 2013
October 2013
December 2013
April 2014
July 2014
October 2014
December 2014
March 2015
June 2015
September 2015
December 2015
March 2016
June 2016
September 2016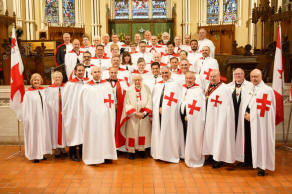 Group shot at the St. James Priory Investiture Sept. 2016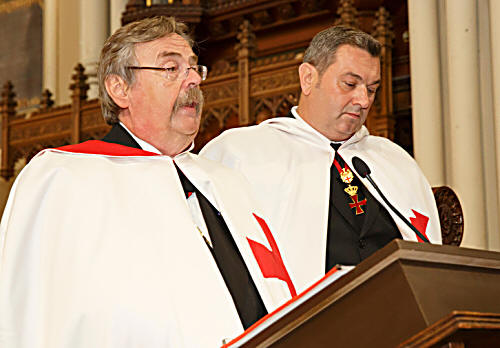 Our new Prior on the left and new Chancellor on the right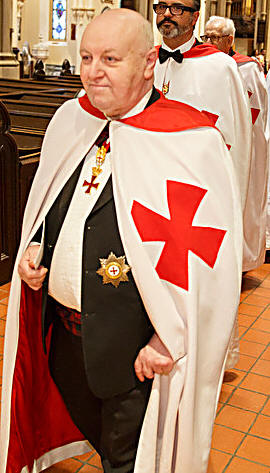 And Sir Alastair McIntyre your web master and ex newsletter editor
---
Some copies of other Newsletters from our International Order
Grand Priory of England and Wales
Preceptory of Australia and New Zealand
---
Other Publications
Information about OSMTH
A Video by Alastair McIntyre GOTJ
St. James Priory of Toronto
Information booklet on the Order (pdf)
St James Priory Annual Report 2014/15 (pdf)
OSMTH at the UN in 2015 (pdf)
The Mountain of the House of the Lord: Utah Priory
Convent and Investiture Handbook May 2016 (pdf)
Questioning the Knights Templar of OSMTH
A video done by Alastair McIntyre 2nd July 2016
United Nations Delegate Handbook (pdf)
Compendium of OSMTH work at the UN (pdf)