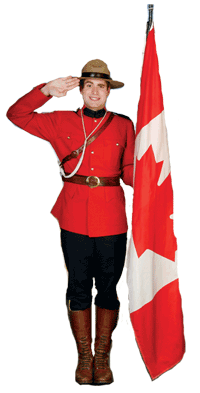 In 2004 I came to Canada to research the history of the Scots in Canada for my ElectricScotland.com site. I was exploring the history of the Scots Diaspora all over the world and as so many Scots came to Canada it was important for me to do some serious research in person. As I had just spent three months in the USA doing similar research it seemed easier to go to Canada from there rather than to return to Scotland.

I was extremely fortunate in being put up by many Scots Canadians which let me explore Canada from coast to coast (PEI to BC) and many places in between. I was truly amazed at the huge contribution that Scots made to Canada.

At the end of my six month stay I was won over by the sheer diversity of Canadian life and found my money went much further than it did in Scotland so I decided to make my home here and have since become a Canadian citizen.

Having settled here I decided to build this site so I could document all that I discovered as I learned more about my new home. This means that you will find loads of history of various parts of Canada and its pioneering past. I have also scattered around the site lots of videos of various parts of Canada and also the people of Canada from the First Nations people through some of the many ethnic peoples that have made Canada their home.

I hope you will enjoy your visit and perhaps some of the content in here will persuade you to visit some of the many great places in Canada be you a Canadian or from Scotland or other parts of the world.
Alastair McIntyre, GOTJ, FSA Scot
In the event you don't know too much about Canada below you will find two good videos which will introduce you to the country.
Canada Travel Guide

The sections available are...
General History
This section brings you the history of Canada as well as the history of all the Provinces and also includes histories of the ethnic groups found in Canada including the First Nations.
Makers of Canada
In this section you will learn of the really important people that helped to build Canada to what it is today. We will also bring you a section in here of other important Canadians as we find them.
Pioneering
Here we explore the process that the Pioneers went through to settle the land so you get a better understanding of the challenges they faced and how they overcame them.
Canadian Armed Forces
Here we will research the various Canadian regiments and what they did for Canada as well as the history of the RCMP.
Industry & Transport
In such a massive country transport links had to be developed which was a major undertaking and especially the Canadian Pacific Railway. We will also explore the various Industrial and Commercial sectors.
Religion
Here we explore how religion developed in Canada and the important work the churches and their ministers did to help build not only churches but schools as well.
Lifestyle
This is where we bring you information on culture, sports, music, and if possible some travel information on Canada and their Provinces.
Videos of Canada
Watch outstanding videos about Canada from coast to coast to coast.
My Canadian Experience
my own record of settling in Canada. The Dept. of Immigration suggested that it would be interesting if I documented my experiences in coming to Canada and the progress I made towards getting Permanent Landed Status and then on to Citizenship. I don't pretend this is an exciting read as there is a lot of mundane stuff but you might find it of interest and especially if you are thinking of settling in Canada.
And finally should you have information on any aspects of Canada and its people and way of life please feel free to contribute it to the site.